Collaboration: Artist Holly Biörklund for Second Petale -Jewelry Boxes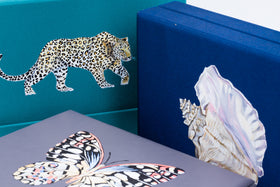 Published on June 16
Category NEWS
Holly Biörklund, painter, fashion designer, artist
I am delighted to present to you a unique and special collection of jewelry boxes that Holly have hand painted for Second Petale. Holly has the magic gift to give life to her creation, it becomes an object of desire, an object of art.
Version en Français ci-dessous

Holly Biörklund
When the dress is worn by a woman, I want the painting to come to life, so that when she walks, the necklaces and charms move and sway with her
The young creator born in England has an exceptional tallent of painting onto silk.
Her graduate collection at St Martin's College London was immediately noticed. Collaborations with the most creative designer houses, such as John Galliano, Zac Posen, Chloé, Louis Vuitton followed, as well as with Lauren Santo Domingo, co-founder of Moda Operandi.
A hand-painted dress that Holly then created for a high profile participant of the MET Ball drew the attention of art and fashion lovers, - a dress was a wearable piece of art!
And that's what she does: she translates her dreams into art. Using her unique language. It explores our relationship with fantasy, memory, storytelling, social codes.
Jewelry like any form of art, bridges, connect people.
So we have the sensitivity about jewelry in common with Holly: she likes to use jewelry patterns in her prints. She studied the jewelry collections of Wallis Simpson as well as pieces from Cartier, Bulgari, Bucellati. These objects were then painted in trompe l'oeil on the canvas.
" For a second, you might think that someone is actually wearing a Cartier, Bulgari or Buccellati necklace. All of these different emblems and ornaments move with the wearer " says Holly.
For the collaboration with Second Petale, Holly has chosen the theme of the bestiary.
It is so close to my heart, - magical creatures, beauty, poetry, - more than ever, they connect us to the great whole, to nature, to the source.
Where do you think this panther is going?
Each jewelry box is unique and signed by the artist.
To enquire about boxes or purchase please e-mail: contact@secondpetale.com
_________________
FR:
Collaboration: L'artiste Holly Biörklund pour Second Petale
Je suis ravie de vous présenter une collection unique de coffrets à bijoux que Holly a peints à la main pour Second Petale. Holly a le don magique de donner vie à sa création, elle devient un objet de désir, un objet d'art.
Le jeune créatrice née en Angleterre possède un talent exceptionnel de peinture sur soie. Sa collection de diplômés au St Martin's College de Londres a été immédiatement remarquée. Des collaborations avec les maisons de créateurs les plus créatives, comme John Galliano, Zac Posen, Chloé, Louis Vuitton ont suivi, ainsi que avec Lauren Santo Domingo chez Moda Operandi. Une robe peinte à la main que Holly a ensuite créée pour un participant au gala MET a attiré l'attention des amateurs d'art et de mode, - une robe était une œuvre d'art portable!
Et c'est ce qu'elle fait: elle traduit ses rêves en art. En utilisant un langage unique. Il explore notre relation avec la fantaisie, la mémoire, les codes sociaux.
Les bijoux comme toute forme d'art relient les gens. Nous avons donc la sensibilité aux bijoux en commun avec Holly: elle aime utiliser des motifs de bijoux dans ses imprimés. Elle a étudié les collections de bijoux de Wallis Simpson ainsi que des pièces de Cartier, Bulgari, Bucellati. Ces objets ont ensuite été peints en trompe-l'œil sur la toile. "Pendant une seconde, vous pourriez penser que quelqu'un porte en fait un collier Cartier, Bulgari ou Buccellati. Tous ces différents emblèmes et ornements bougent avec le porteur", explique Holly.
Pour la collaboration avec Second Petale, Holly a choisi le thème du bestiaire, qui me tient tellement à cœur, - créatures magiques, beauté, poésie, - plus que jamais, elles nous relient au grand tout, à la nature, à la la source.
Chaque coffret à bijoux est unique et signé par l'artiste.
Pour plus d'informations sur les boîtes ou l'achat, envoyez un e-mail: contact@secondpetale.com